Rawal Dam Chowk Interchange likely to be completed by June 2022
12-15-2021, 05:48 PM
LRE-Azan
Super Moderator


Posts: 2,721
Joined: Oct 2017
Reputation: 0
Rawal Dam Chowk Interchange likely to be completed by June 2022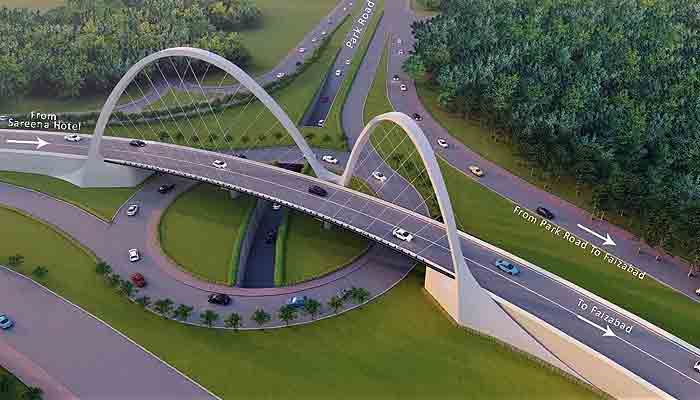 Islamabad:
Chairman of the Capital Development Authority along with member engineering and senior officers on Monday visited Rawal Dam Interchange and 7th Avenue Interchange project and inspected the progress of construction work.
On this occasion, the CDA chairman directed the concerned officers to install reflectors around Rawal Dam Interchange site to facilitate commuter as well as to complete the slip roads of the project and open them for traffic this month.
CDA chairman directed the concerned formation to ensure high quality of construction work as well as to further expedite the pace of work. Due date for completion of Rawal Dam project is October 2022 but is likely to be completed earlier by June 2022, whereas the fly over part of interchange is being targeted to be completed by January/February 2022.
Furthermore, the CDA chairman, on the occasion of his visit to 7th Avenue Interchange, directed the concerned departments to complete the 7th Avenue Bridge by February 2022 and open it for traffic while also directed to complete the construction of 7th Avenue Interchange by August 2022.
It should be noted that October 2022 was set for the completion of the 7th Avenue Interchange project. In order to maintain the flow of traffic, instructions were issued that CDA and traffic police officers should work out a traffic diversion plan so that the citizens do not face any difficulty and also save the citizens from wasting precious time. Instructions were also issued to display traffic diversion signs at prominent places for public guidance and alternative routes. The CDA chairman directed the Environment Wing to select suitable sites in both the projects and plant as many trees as possible.
Furthermore, the CDA administration directed the concerned departments to expedite the work and use all the resources to complete both the projects so that the citizens do not face any problem like traffic jam.
Reference:
Possibly Related Threads...
Thread:
Author
Replies:
Views:
Last Post
LDA extends tender opening date of Babu Sabu Interchange project
LRE-Azan
0
276
01-26-2023 03:14 PM
Last Post: LRE-Azan
PCBDDA Plans to Open Kalma Chowk Underpass by February 2023
LRE-Azan
0
273
01-25-2023 02:06 PM
Last Post: LRE-Azan
Good news: Margalla Avenue to be Completed 'Very Soon' – Chairman CDA
LRE-Azan
0
369
01-21-2023 01:15 PM
Last Post: LRE-Azan
HYDERABAD-SUKKUR MOTORWAY TO BE COMPLETED IN 2 YEARS
LRE-Azan
0
250
01-18-2023 03:07 PM
Last Post: LRE-Azan
Rawalpindi: Kachehri Chowk Signal Free project, Hearing of Objections Completed
LRE-Azan
0
830
03-02-2022 06:54 PM
Last Post: LRE-Azan
Lahore Gulberg to Defence Chowk to be Made 5km Signal Free Corridor
LRE-Azan
0
774
01-01-2022 06:51 PM
Last Post: LRE-Azan
Flyover on Azadi Chowk : LHC extends stay against demolition
Salman
0
4,245
02-26-2014 10:23 PM
Last Post: Salman
Rs. 1.5 billion Allotted For Azadi Chowk Flyover
Salman
0
5,309
02-07-2014 07:34 PM
Last Post: Salman
LOS dual carriageway to be completed by May
Salman
0
3,790
01-27-2014 07:10 PM
Last Post: Salman
Work on Azadi Chowk Interchange, New Circular Road Project starts
Salman
0
7,926
01-16-2014 01:55 PM
Last Post: Salman
Mareer Chowk Railway Bridge finally becomes operational
Salman
0
4,572
01-08-2014 02:43 PM
Last Post: Salman
Property Tax Survey Completed By Excise Department
Salman
0
5,821
11-19-2013 04:51 PM
Last Post: Salman
Rs 1,600m approved for Azadi Chowk shifting
Salman
0
8,946
11-18-2013 12:16 PM
Last Post: Salman
CDA Yet To Start Construction Of Footpaths Along ZPI (Zero Point Interchange)
Salman
0
7,424
10-31-2013 02:29 PM
Last Post: Salman
Railway bridge project to be completed by November 30
Salman
0
10,351
10-10-2013 01:22 PM
Last Post: Salman
All NHA projects to be completed in stipulated time: Arbab
Salman
0
8,769
08-17-2013 12:55 PM
Last Post: Salman
Mareer Chowk Bridge launching delayed again
Salman
0
10,231
08-06-2013 11:08 AM
Last Post: Salman
TMA Rawal Town to computerise building plans approval
Salman
0
6,193
06-19-2013 12:19 PM
Last Post: Salman
Pir Wadhai project to be completed by June 31
Salman
0
4,198
06-04-2013 11:38 AM
Last Post: Salman
RDA expedites work, but project unlikely to be completed on time
Salman
0
4,566
06-01-2013 03:29 PM
Last Post: Salman
User(s) browsing this thread: 1 Guest(s)