Agreement signed to hand over Gwadar Port to Chinese company
02-19-2013, 11:14 AM
(This post was last modified: 02-19-2013 11:15 AM by Salman.)
Salman
Administrator


Posts: 5,071
Joined: Oct 2011
Reputation: 0
Agreement signed to hand over Gwadar Port to Chinese company
ISLAMABAD: An agreement has been signed in Islamabad to hand over Gwadar Port to a Chinese company.
Under the agreement the Chinese company will fully assume the responsibility of Gwadar Port. The port will remain property of Pakistan and the Chinese company will share the profit.
Chairman Gwadar Port Authority Dr. Syed Pervez Abbas' Major General Asghar Nawaz of National Logistics Cell' Chairman AKD Security Aqeel Karim Dhedi and Leo Fong of China Overseas Port Holdings Limited and Singapore Authority representative Faisal Javed signed on the agreement on behalf of their respective organizations.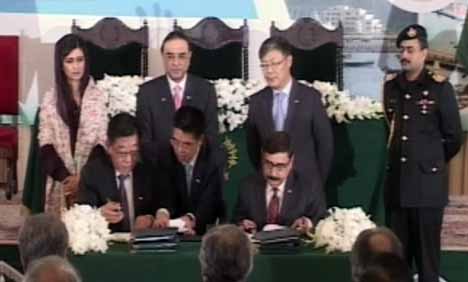 02-20-2013, 02:15 AM
LRE
Super Moderator


Posts: 4,508
Joined: May 2008
Reputation: 0
RE: Agreement signed to hand over Gwadar Port to Chinese company
Possibly Related Threads...
Thread:
Author
Replies:
Views:
Last Post
Chinese govt rolls out scholarships for Pakistani students
LRE-Azan
0
3,450
11-07-2017 03:54 PM
Last Post: LRE-Azan
Chinese Ambassador Engrossed To Invest In Automobiles Accessories
LRE-Azan
0
3,304
11-07-2017 03:50 PM
Last Post: LRE-Azan
Master plan for Gwadar smart port city to be finalized soon
Salman
0
2,444
08-09-2017 03:02 PM
Last Post: Salman
Gwadar Would Be Made A Modern Port City of International Standard
Salman
0
3,516
07-19-2017 02:15 PM
Last Post: Salman
Chinese Company Contracted To Build Pakistan Largest Airport
Salman
0
3,717
07-13-2017 04:38 PM
Last Post: Salman
750 Chinese Companies Operating In Pakistan
Salman
0
3,363
07-08-2017 02:40 PM
Last Post: Salman
Agreement signed to run Metro Train in Lahore
Salman
0
3,898
04-14-2015 03:08 PM
Last Post: Salman
PHA & LWMC Signed a Deal for Green Streets
Salman
0
3,865
04-14-2015 03:00 PM
Last Post: Salman
LDA Announced To Hand Over Possession Of Plots In LDA Avenue 1 From 31th March
Salman
0
12,921
03-26-2014 06:06 PM
Last Post: Salman
Turkish Development Agency And CDA Signed An MOU
Salman
0
3,381
03-04-2014 05:56 PM
Last Post: Salman
MoU for establishing $2b garments zone signed
CMY
0
3,526
01-16-2014 09:19 AM
Last Post: CMY
DHA City Karachi: Agreement signed to establish Pakistan's first smart city
Salman
0
8,023
11-29-2013 01:13 PM
Last Post: Salman
Land Sale Agreement Between DHA And ETPB Declared Void
Salman
0
8,951
10-04-2013 07:04 PM
Last Post: Salman
Linkage of Gwadar Port with Karakorum Highway will multiply Pakistan exports to China
Salman
0
7,130
09-24-2013 11:42 AM
Last Post: Salman
Sindh Engro Coal Mining Company To Develope 6000 MW With Colabration of China Power I
Salman
0
7,832
08-16-2013 12:05 PM
Last Post: Salman
Chinese company to set up 300MW solar power plant in Cholistan
Salman
0
8,535
08-03-2013 12:55 PM
Last Post: Salman
Nandipur power project : Chinese company agrees to resume work on CM's prodding
Salman
0
5,918
07-06-2013 05:19 PM
Last Post: Salman
Chinese firms willing to invest in Pakistan
Salman
0
3,797
12-07-2012 12:31 PM
Last Post: Salman
Handing over Gwadar port to China best solution: PEW
Salman
0
4,621
09-12-2012 11:45 AM
Last Post: Salman
Pakistan: CHEC Set to Run Gwadar Port
LRE
0
4,367
09-04-2012 09:42 PM
Last Post: LRE
User(s) browsing this thread: 1 Guest(s)