CM assures timely completion of Metro Bus Project
11-20-2012, 12:11 PM
(This post was last modified: 11-20-2012 12:12 PM by Salman.)
Salman
Administrator


Posts: 5,071
Joined: Oct 2011
Reputation: 0
CM assures timely completion of Metro Bus Project
LAHORE - Punjab Chief Minister Shahbaz Sharif on Sunday said that the Metro Bus was not just a project but a great mission and all out resources were being utilised for its earliest completion.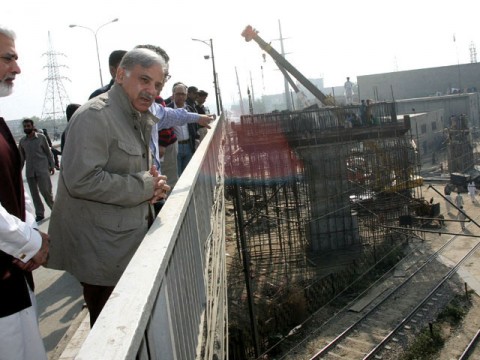 He said that metro bus project was a unique project in the history of the country which would revolutionize transport culture and speedy transport facilities will become available to the common man. He said that though difficulties were being faced due to construction work but these were temporary and will soon be replaced by a permanent relief. The CM directed that planning should be made for the use of solar energy at the bus stations to be constructed for metro bus service.
He expressed these views while reviewing the pace of work on metro bus project during his more than four hour visit to the project. Chairman Lahore Transport Company Khawaja Ahmad Hasaan, Member Provincial Assembly Hafiz Mian Nauman, Director General LDA Ahad Cheema and Project Director Sibtain Fazal Haleem accompanied the Chief Minister.
Talking to the people at various places during his visit, the CM said that the elements criticizing public welfare projects are not interested in solution of people's problems but only want to fill their pockets. Therefore, he said, instead of spending funds on peoples' welfare, worst corruption was carried out under the rule of the last government. He said had the resources been spent on the progress and prosperity of the masses, there would not have been such problems. He said that public service is his mission and all out resources were being spent on the provision of facilities to the people.
He said that if public service was a crime, he would commit this crime a thousand times. He said that metro bus service was a dream which will soon be realised. He said that work was being done around the clock on this splendid project of public interest and its completion will give a new identity to Lahore as well as modernise public transport system. Reviewing the pace of work near Gajjumatta, the CM expressed his satisfaction and said that the bus depot should be state-of-the-art.
While reviewing construction work of additional bridge along Lahore Bridge, he directed that the work should be further accelerated. He also saw the overhead bridge constructed in front of Children Hospital as well as reviewed the e-ticketing system and said that all overhead bridges should be made eye-catching while planning should also be made for the use of solar energy at bus stations. He said that metro bus project was a milestone with regard to provision of transport facilities to the masses and no effort should be spared for its early completion.
He directed that work on all packages of the project should be completed within timeframe as no delay would be tolerated. He said that a high standard and transparency in the execution of development projects was the policy of Punjab government and like other development projects, metro bus project will be a unique example of these qualities. He said that a 8.5 km long bridge was also being constructed for metro bus project.
He further said that an underpass will also be constructed for making Kalma Chowk signal-free.
The CM started his visit from Gajjumatta and inspected the pace of work at different sections up to Shahdra. Director General LDA apprised the Chief Minister of the pace of work at different sections. The CM was also given a briefing regarding under-construction bus depot, construction of additional bridge along Lahore Bridge, construction of underpass at Model Town More and the pace of work at various sections of the project.
Possibly Related Threads...
Thread:
Author
Replies:
Views:
Last Post
Emergency and disaster management NOC Mandatory on Building Completion in Capital Isl
LRE-Azan
0
50
11-08-2021 08:08 PM
Last Post: LRE-Azan
Subsidy sharing formula of Metro project decided
Salman
0
3,897
04-18-2015 05:11 PM
Last Post: Salman
Metro bus project: Rewriting facts to suit narratives
Salman
0
3,458
03-31-2014 07:34 PM
Last Post: Salman
Nine pre-qualify for Islamabad portion of metro bus project
Salman
0
4,187
03-28-2014 02:28 PM
Last Post: Salman
PM performs ground breaking of Rs 44 bln Metro Bus project
Salman
0
3,689
03-24-2014 02:10 PM
Last Post: Salman
Metro Bus project to be launched on 23rd
Salman
0
3,810
03-22-2014 06:07 PM
Last Post: Salman
Public hearing on Metro Bus Project
Salman
0
3,433
03-19-2014 02:54 PM
Last Post: Salman
NLC wins a contract for Pindi section of Metro Bus Project
Salman
0
3,798
03-18-2014 02:22 PM
Last Post: Salman
CDA agrees to metro bus project
Salman
0
3,358
03-12-2014 02:24 PM
Last Post: Salman
Metro bus project: Facing the axe: widening of avenues will eat up green belts
Salman
0
5,445
03-10-2014 04:48 PM
Last Post: Salman
CDA chief for speedy completion of parks' uplift projects
Salman
0
3,144
02-25-2014 01:18 PM
Last Post: Salman
CDA Chairman stresses early completion of Kashmir Highway
Salman
0
3,349
02-12-2014 07:48 PM
Last Post: Salman
Five firms pre-qualify for metro bus service project
Salman
0
5,200
02-10-2014 02:49 PM
Last Post: Salman
PC-1 of Metro Bus Service project approved
Salman
0
4,090
02-10-2014 02:46 PM
Last Post: Salman
Metro bus service: Pindi admin takes first steps towards bus project
Salman
0
3,638
01-28-2014 04:29 PM
Last Post: Salman
Rashdi assures property rights to overseas Pakistanis
CMY
0
3,342
01-25-2014 06:06 AM
Last Post: CMY
KMC Administrator Ordains Early Completion Of Flyovers
Salman
0
3,800
10-23-2013 12:22 PM
Last Post: Salman
Delay in completion of project irks Pindiites
Salman
0
6,006
09-30-2013 03:45 PM
Last Post: Salman
Timely completion of projects being ensured: CM
Salman
0
8,854
08-03-2013 12:55 PM
Last Post: Salman
Proposals for metro bus project get final shape
Salman
0
4,047
07-03-2013 12:41 PM
Last Post: Salman
User(s) browsing this thread: 1 Guest(s)