Roads dug up for Metro Bus Service
09-12-2012, 11:34 AM
(This post was last modified: 09-12-2012 11:35 AM by Salman.)
Salman
Administrator


Posts: 5,071
Joined: Oct 2011
Reputation: 0
Roads dug up for Metro Bus Service
Unavailability of alternate route creates traffic mess
* Citizens complain a single project has disturbed traffic flow across city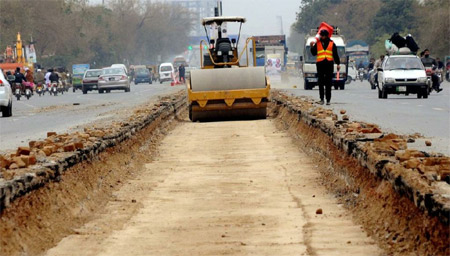 LAHORE: Digging and closure of roads due to construction work for the Metro Bus Service (MBS) has become a source of trouble and nuisance for citizens as the government has failed to provide an alternate traffic plan.
Most of the busy roads have been dug up due to the construction of this bus project, which is to be built from Gajju Matta to Shahdara. The work is causing problems for motorists, commuters and pedestrians in the congested areas of the city.
On the other hand, despite its claims the city government has not succeeded in completely removing encroachments along roads, which is resulting in a traffic mess.
The most affected areas include Ichhra, Shama, Lytton Road, Chauburji, Jain Mandir, Islampura, Rajgarh, Mozang, Bhaati, Data Darbar and Ravi Road. Frequent traffic jams are witnessed in these areas and during office and school time it is difficult to reach even the nearest destination. Monsoon rains, poor drainage and sewerage system are adding to people's woes.
Citizens complained that due to this single project, traffic across the city has been disturbed.
A motorist, Malik Israr, said that it took more than an hour to reach even the nearest destination. "It is very difficult for motorists and pedestrians to move on these roads during rains," he added. Due to heavy rains in the city, the dug up roads have become little ponds of water, providing breeding places to dengue mosquitoes.
"The Punjab government's campaign against dengue will not yield results unless this problem is solved," said a citizen.
Lahore DCO Noorul Amin Mengal has said that the government is doing its best to help citizens and has made arrangements for ensuring alternate routes where development projects are ongoing. However, he said, for any development work in an area, people had to suffer and face inconvenience.
Hearing a petition regarding the MBS, the Lahore High Court has also directed the Traffic Engineering and Transport Planning Agency (TEPA) and city traffic police to ensure availability of at least one exclusive lane for ambulances at all roads leading to the government hospitals.
According to the first deadline given by the government, the MBS project on Ferozepur Road (from Kalma Chowk to Gajju Matta) should be completed by April; from Gajju Matta to Bhaati Chowk by October, and from Gajju Matta to Shahdara by December. But keeping in view the pace of work, it seems the project will take more time.
Possibly Related Threads...
Thread:
Author
Replies:
Views:
Last Post
Metro Bus service will start functioning by the end of the next month.
Salman
0
4,372
04-30-2015 05:19 PM
Last Post: Salman
Inauguration of Metro Bus Service delayed yet again
Salman
0
4,160
03-20-2014 06:13 PM
Last Post: Salman
Bahria Town to start Karachi Metro Bus Service
Salman
0
8,091
03-17-2014 01:35 PM
Last Post: Salman
Metro Bus Service gets final nod from CDWP
Salman
0
4,020
03-15-2014 04:53 PM
Last Post: Salman
Five firms pre-qualify for metro bus service project
Salman
0
5,548
02-10-2014 02:49 PM
Last Post: Salman
PC-1 of Metro Bus Service project approved
Salman
0
4,477
02-10-2014 02:46 PM
Last Post: Salman
Metro bus service: Pindi admin takes first steps towards bus project
Salman
0
4,020
01-28-2014 04:29 PM
Last Post: Salman
PM chairs meeting on Rawalpindi-Islamabad metro bus service
Salman
0
3,536
01-20-2014 07:33 PM
Last Post: Salman
CDA to purchase 33 buses for city service
Salman
0
3,363
01-13-2014 07:08 PM
Last Post: Salman
Islamabad Bus Service Project approved
Salman
0
3,958
01-06-2014 11:39 AM
Last Post: Salman
CDA Gives Approval For Bus Service Project
Salman
0
3,920
01-02-2014 01:24 PM
Last Post: Salman
LDA to install 136,000 LED lights on city roads
Salman
0
6,070
12-02-2013 01:52 PM
Last Post: Salman
LDA Plans To Install LED Lights On Roads
Salman
0
5,577
12-02-2013 01:48 PM
Last Post: Salman
RDA : Initial work on launching metro bus service in Rwp begins
Salman
0
9,500
11-08-2013 02:12 PM
Last Post: Salman
CDA allocates Rs 8 millions for roads' repair
Salman
0
6,899
09-24-2013 11:43 AM
Last Post: Salman
CDA to launch metro bus service in collaboration with PMBA
Salman
0
6,504
08-30-2013 01:39 PM
Last Post: Salman
Work on service roads could not be completed despite passage of deadline
Salman
0
4,024
03-12-2013 07:38 PM
Last Post: Salman
Metro Bus Service To Be Inaugurated Tomorrow
Salman
0
4,973
02-09-2013 12:48 PM
Last Post: Salman
CDA digs up roads and leaves them like that
Salman
0
3,387
01-24-2013 07:04 PM
Last Post: Salman
Rawal Town roads to be renovated
Salman
0
4,270
12-15-2012 05:20 PM
Last Post: Salman
User(s) browsing this thread: 1 Guest(s)