CDA to spend Rs 40m for preserving historical sites
11-14-2011, 11:30 AM
(This post was last modified: 11-14-2011 11:33 AM by Salman.)
Salman
Administrator


Posts: 5,072
Joined: Oct 2011
Reputation: 0
CDA to spend Rs 40m for preserving historical sites
CDA to spend Rs 40m for preserving historical sites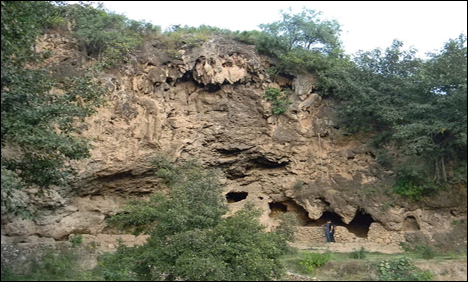 ISLAMABAD: Capital Development Authority (CDA) is making concrete efforts to preserve archeological sites and historical trees in the vicinity of the Federal Capital to help promote old culture of the area.
More than Rs 40 million would be spent on preservation of the archeological sites and `Sadhu Ka Bagh' whereas seven million rupees would be spent to conserve the historical trees in addition to utilizing the departmental resources for the purpose, an official of CDA said.
CDA has constituted a nine-member committee, to preserve the centuries old archaeological sites of the federal capital, consisting of members from CDA and other concerned departments for technical input and cooperation.
The CDA has also devised a strategy to preserve the centuries old trees located in both rural and urban areas of the federal capital.
Under the plan, the civic agency is preserving and developing 2,400-year-old Sadhu Ka Bagh located at Shah Allah Ditta, measuring two acres and Shah Allah Ditta caves with a cost of Rs. 40 million.
Besides, centuries old trees of different species including Date Palm, Kau, Phulai, Banyan, Mango and Peepul would also be protected under the same project.
In addition to the development of Saadhu Ka Baagh, CDA would also preserve the old historical sites adjacent to that like Shah Allah Ditta Caves, Stupa, old mosque, Boally and a pond at Bun Faqiraan to attract the visitors.
Chairman CDA Imtiaz Inayat Elahi has earlier said the basic objective of the project is to protect the rich cultural heritage of Islamabad and CDA would never carry out development in the federal capital at the cost of our heritage.
He said the project is part of the CDA's efforts to protect the environment and promote tourism in Islamabad for which Tourism Division has already been created under the aegis of Environment Wing. He said that these sites, once completed, would be a great attraction for the local as well as foreign visitors. (APP)
Possibly Related Threads...
Thread:
Author
Replies:
Views:
Last Post
PM directs authorities to restore heritage sites
Salman
0
1,773
03-18-2014 01:45 PM
Last Post: Salman
CDA to auction all parking sites in capital
Salman
0
3,052
09-13-2013 01:18 PM
Last Post: Salman
Auction of land for school sites on April 8
Salman
0
1,911
04-05-2013 12:26 PM
Last Post: Salman
Conservation and restoration: Walled City Authority takes over heritage sites
Salman
0
2,917
04-04-2013 02:49 PM
Last Post: Salman
CDA to spend Rs 171 million to uplift parks
Salman
0
2,205
03-30-2013 11:36 AM
Last Post: Salman
CDA to spend Rs.171 million for parks uplift
Salman
0
2,472
03-04-2013 11:23 AM
Last Post: Salman
LDA to spend Rs64m on Raiwind Road
Salman
0
1,785
06-11-2012 01:21 PM
Last Post: Salman
LDA to spend Rs250m on development projects
Salman
0
2,066
05-01-2012 01:49 PM
Last Post: Salman
CDA to spend Rs 5b of taxpayers' money on controversial LED project
Salman
0
1,849
04-03-2012 01:06 PM
Last Post: Salman
LDA to spend Rs 1.48 billion for development projects
Salman
0
2,167
04-02-2012 12:49 PM
Last Post: Salman
Google to show Punjab archaeology sites
Lahore_Real_Estate
0
1,666
02-07-2012 11:58 AM
Last Post: Lahore_Real_Estate
CDA to spend Rs 257 million on development of Ankara Park
Salman
0
1,690
02-06-2012 12:43 PM
Last Post: Salman
sub-standard housing societies eating up the historical city
Salman
0
2,172
02-01-2012 02:30 PM
Last Post: Salman
CDA to spend Rs257m on dev of Ankra Park
Lahore_Real_Estate
0
1,268
01-30-2012 11:22 AM
Last Post: Lahore_Real_Estate
China Mobile plans to develop solar-powered cell sites
Lahore_Real_Estate
0
1,953
12-23-2010 01:34 PM
Last Post: Lahore_Real_Estate
LDA to lease out 18 petrol pump sites
Lahore_Real_Estate
0
1,943
12-13-2010 01:15 PM
Last Post: Lahore_Real_Estate
PTA issued policy guidelines to monitor web-sites: LHC informed
Lahore_Real_Estate
0
1,810
06-16-2010 04:39 PM
Last Post: Lahore_Real_Estate
India arrests four Americans for spying nuclear sites
Naveed Yaseen
0
1,784
03-25-2010 11:37 AM
Last Post: Naveed Yaseen
Social Networking Sites Dangerous for Business World
LRE
0
1,360
02-08-2010 12:13 PM
Last Post: LRE
Historical context of 'Vande Matram', hindu nationalism (by Dr Safdar Mehmood)
Naveed Yaseen
0
1,444
11-09-2009 09:27 AM
Last Post: Naveed Yaseen
User(s) browsing this thread: 1 Guest(s)